FNB Joburg Art Fair 2015
Posted by Artlogic on 18 Sep 2015
Experimental presentations, rich programming and new layout make an inspiring 8th edition
The 8th Edition of the FNB JoburgArtFair brought 50 exhibitors from 7 countries under one roof with solid sales reported throughout. Attracting 11 000 visitors, the fair hosted local and international media, artists, collectors, school groups and esteemed curators from Centre Pompidou, Tate Modern, Zeitz MOCAA, RAW Material Company, The Armory Show, Art Basel, LISTE Art Fair and SALTS Switzerland.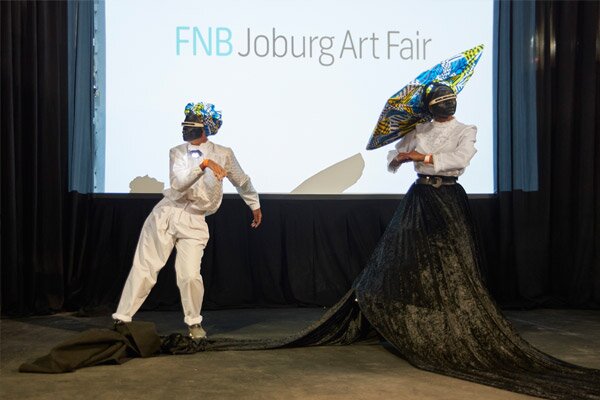 Arts collective, Dear Ribane perform 'Transcending Future' (2015)
Joburg-based interior designer firm, Studium created a new layout that radically altered the fair experience for exhibitors and visitors. This year saw the introduction of a well-attended, Theatre dedicated to an ambitious programme of live performances, talks and film screenings. The talks programme brought together prominent voices from across the African diaspora and art world, including: Samuel Leuenberger, Zoe Whitley, Kadiatou Diallo, Gerhard Steidl and 2015 Featured Artist, Candice Breitz.
Fair Curator, Lucy MacGarry commented, It's been a fantastic year for us and we've had an overwhelming number of compliments. Particularly rewarding is the response to the elegant new layout as well as the newly introduced Gallery Solo Projects and Limited Edition categories. The Theatre's programme of talks, performances and films has also been a major draw in attracting new audiences to the fair. Artlogic Director, Mandla Sibeko added We were most impressed by the diversity of the Fair audience reflecting vibrancy and energy of Johannesburg as one of the largest economies in Africa.
The 2015 Advisory Committee members included Koyo Kouoh (RAW Material), Bisi Silva (CCA Lagos), Jay Pather (GIPCA), Karolina Lewandowska (Centre Pompidou) and Zoe Whitely (Tate Modern), while the Selection Committee – which helped shape this year's exhibitor presentations – comprised five leading gallerists, Liza Essers (Goodman Gallery), Joost Bosland (Stevenson), Alet Vorster (Gallery AOP), Baylon Sandri (SMAC Gallery) and Monna Mokoena (Gallery MOMO). Sandri noted, Congratulations to the fair organisers on improved presentations, dynamic programming and influential invited guests. The fair has confirmed itself as a world-class event. 
Local collector, Emile Stipp commented: By far the best FNB JoburgArtFair to date! I think the fair did a great job of attracting fantastic artists and installations – Him + Her was an absolute highlight for me. The focus on video was great, and the solo projects were also a great idea. The Johannesburg Art Gallery in partnership with Artlogic and Goodman Gallery proudly presented the film installation Him + Her (1968 – 2008) for its first ever showing in South Africa.
As the official online partner of the Fair, Artsy hosted a dedicated preview and digital catalogue, providing online access to exhibitor booths, editorial content and the opportunity for collectors to make direct sales inquiries through the site prior to the official opening of the Fair.  This partnership led to a significant number of sales for exhibitors, notably Christopher Moller Gallery who were able to make contact with a host of new North American collectors.
This year's VIP programme presented by Egon Zehnder included visits to private viewings in artists' studios, including those of artist Mary Sibande and Mikhael Subotzky and a private tour of the Wits Art Museum. The African Modernist exhibition in the newly established FNB Private Wealth VIP Lounge offered visitors the rare opportunity of juxtaposing the energy of cutting edge and emerging artists alongside important artists of early African modernism.
The Baboink Art Bar designed by Cameron Platter and presented by Absolut Vodka was a first in South Africa and combined music, visual art and mingling to perfect effect. Amy Ellenbogen of SMITH Gallery added: This was our first year at the FNB JoburgArtFair, and it far exceeded expectations. We thoroughly enjoyed ourselves, made invaluable connections and secured sales to very good private collectors and institutions abroad.
This year's FNB Art Prize, which awards a young artist the financial means and opportunity to create a new project for the Fair, was juried by eminent African curators Koyo Kouoh (Senegal) and Bisi Silva (Nigeria). South African artist Turiya Magadlela (born 1978) took the honours this year and presented a large-scale installation comprising a grid of steel institutional beds made with correctional service fabrics.
Johans Borman of Johans Borman Fine Art (Cape Town) said: This edition has by far been the best FNB JoburgArtFair. This year the fair was easier to navigate and felt both more energized in terms of its curatorial vision and well-designed layout. 
The FNB JoburgArtFair was founded as the first art fair on the African continent. From the beginning, Artlogic has set out to bring together the best of contemporary art from Africa, and to create a platform for dialogue and exchange on which the continent's artists, curators, collectors, writers and art lovers can congregate. The FNB JoburgArtFair is an Artlogic event and generously supported by First National Bank, the oldest bank in South Africa.
Faye Mfikwe, FNB Chief Marketing Officer says, As a proudly South African bank, First National Bank (FNB) remains committed to the support of arts and culture as it celebrates all that contemporary art represents. Over the years we have seen the FNB JoburgArtFair grow in talent and in numbers of visitors attending the exhibition.  We also believe that there's a great deal of innovation in developing an art piece so our efforts also seek to give meaning to those who keep us talking and involved through artistic expressions.