The 2015 FNB Art Prize Winner Announced
Posted by Artlogic on 14 Aug 2015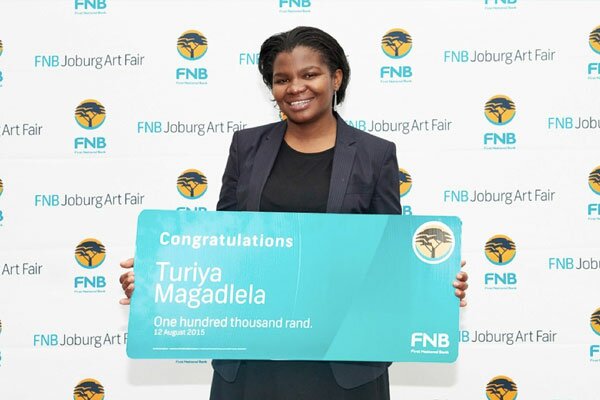 The FNB Art Prize was launched in 2011. All galleries participating in the Fair are given the opportunity to nominate one of their artists for consideration by our jury. The winning artist receives a cash prize of R100 000 as well as the opportunity to showcase their work in a dedicated space at the FNB JoburgArtFair. The two highly respected judges tasked with selecting this year's recipient are Senegalise curator, Koyo Kouoh, and Nigerian curator, Bisi Silva. Twenty-five galleries presented high quality proposals and this year's FNB Art Prize winner is South African artist, Turiya Magadlela.
Magadlela (born 1978) uses a variety of common-place fabrics such as nylon pantyhose, correctional services sheeting and uniforms in her work. By playing with the associations intrinsic to these fabrics, Magadlela imbues her work with meaning. In her practice of stitching, folding and stretching these materials across wooden frames, Magadlela creates formally stringent, abstract compositions.
For the FNB Art Prize 2015, Magadlela presents a series of works under the title, 'Imihuzuko' (an iteration of which was shown at the Johannesburg Art Gallery from May – July 2015). Magadlela began work on this series in 2013 in an ongoing contemplation on the history of incarcerated black South African leaders. Using traditional Xhosa cloth and correctional service fabrics with their torn edges, creases and exposed stitching, she tells a story of our complex history in subtle, minimal compositions. Individual works are named for past incarcerated kings, chiefs and prophets such as Kgosi Galeshewe, Langalibalele and Hintsa.
A focal point of the FNB Art Prize exhibition comprises a large-scale installation: a grid of steel institutional beds arranged in a cell-like constellation, 'dressed' with these fabrics. The installation examines what it might mean to be incarcerated and brings into sharp focus the realities of present day prisons in South Africa.
After matriculating from the National School of the Arts, Magadlela studied at the Funda Community College under Charles Nkosi, the University of Johannesburg and the Rijksakademie in Amsterdam. She has had solo exhibitions at the Johannesburg Art Gallery (2015) and at blank projects, Cape Town (2013). Select group exhibitions include 'The Poetry In Between: South-South' (Goodman Gallery, Cape Town, 2015); 'Half-devil and half-child' (blank projects, 2014); 'When Form Becomes Attitude' (blank projects, 2013) and 'The Grote Oversteek' (Stedelijk Museum, Netherlands).
Magadlela currently lives and works in Soweto.